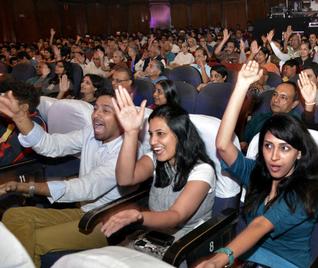 The Hindu, Live Review, Nov 26, 2013
If Saturday's performance was all about the instruments, Sunday's was a celebration of voice.
When Coco's Lunch took the stage for their performance, the audience instantly warmed up to their lively presence and soulful voices.
With minimal use of a wide range of instruments, including African drums, the Kashaka, flute and even cow bells for one track, the five performers — Lisa Young, Jacquelin Gawler, Nicola Eveleigh, Emma Gilmartin and Libby O'Donovan — took the audience through the concert by sharing what led to the creation of each track.
While each of the troupe has a successful career as a musician, what they create as an ensemble is what really makes these women from Australia stand out and it was the symphony created by the coming together of these five powerful voices that made the concert on Sunday quite memorable.
Lisa Young's experiences with Indian and African music were reflected in the songs 'Tanga' which was a combination of Carnatic and Acapella Jazz.
Young, who has received training from Karaikudi Mani impressed with her kannakol rendition (the vocal recitation of solkattu — the vocal syllables related to the sounds of the mridangam), while the others carried the strong melody forward.
Their repertoire included songs that were inspired from India — both 'Palani princess' and 'Varkala' — written by Jacquelin Gawler, were upbeat numbers that many of us could relate to.
Fugue, in which the vocals were accompanied by Nicola Eveleigh on the flute, was written after an inspiring performance in Laos while 'Sister, my sister', a hymn-like tune created a mood of quiet communion between the performers and the audience. The track 'She's got a baby in her belly' had four audience volunteers join the five performers on stage, making baby noises, much to everybody's amusement. The night ended with a performance featuring the audience singing and gesturing along for the chorus of 'Rat trap' — a fun track about a young girl's take on the rat traps set by her mother.
That Coco's Lunch has been performing together for the last decade showed in how seamlessly their voices blended to created a layered sound. The quintet's voices, complemented by the song arrangements, more than filled the void left by the lack of rich musical accompaniment.
Moreover, the concert introduced the Hyderabad audience to yet another genre of Western music, through some of its best voices.
read online: http://www.thehindu.com/todays-paper/tp-features/tp-metroplus/tunes-for-the-soul/article5390985.ece