AllAboutJazz, published by zzZing Agency on 4th Feb 2014
Gondwana Choirs commissioned Stem's Artist Lisa Young to write a massed choir piece for their national choral school. Lisa Young is Gondwana Voices 'Composer In Residence'. This piece was premiered at: Gondwana Choirs National Choral School Concerts, The Concourse, Chatswood, Australia on Saturday January 18th, 2014 during the "saturday concerts"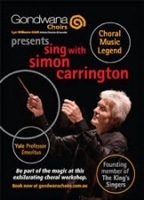 The Saturday concerts were the culmination of two weeks of workshops in choral singing, conducting and composing, attended by hundreds of young musicians aged 10-25, drawn from around the nation.
The five different choirs representing a range of abilities and singing from memory in several languages, presented music from Victoria to Butterly, traditional folk songs from around the world and some written by the musicians in the programme. The singers had the opportunity to work with an assemblage of specialist repetiteurs and leading conductors—amongst them Simon Carrington, Yale University Professor Emeritus and co-founder of the King's Singers, Lyn Williams OAM, Artistic Director and Founder of the choirs and Carl Crossin OAM.
They rocked, they swayed, they clapped and clicked. The joy of music shone in their eyes. The afternoon climaxed with all the choirs on stage, conducted by Simon Carrington, premiering Tha Thin Tha by Indophile Melbourne composer Lisa Young who rehearsed her composition with the singers, first hand.
Read the online news item on All About Jazz here