Lisa Young Quartet –
'Like priests, Lisa and her mates gather the sacred, traditional Indian music and the western, modern jazz in a beautiful marriage. They know how to bring it almost spiritually, that can create a meditation realm. The chemistry between the musicians was overwhelming. The combination of music playing and singing from Lisa Young is like offering a ticket to enter the gate of a new, diverse musical dimension. Mystical is the word. What an experience.'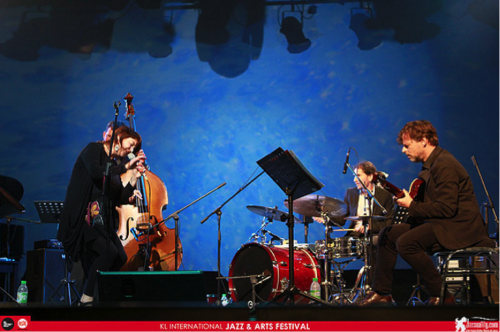 …At around 5:30 pm, 2 stages ran simultaneously. At the Experimental Stage Niccolo Faraci Trio was replaced by Lisa Young Quartet. Ever heard of Lisa Young? If you haven't heard about her yet, maybe it's time for you to listen to her, because the lady has a very different music to share. This PhD of Music Performance holder from the land of Oz is popular among the world and jazz aficionados as a distinctive vocal stylist and brilliant improviser that loves to incorporate Indian and African elements in her crafts.
In our short interview with her, we found out that she masters the South Indian Music after studying it for 20 years, especially in Konnakol (the carnatic vocal syllables used to create rhythmical composition, in some ways like Indian way of scat singing) as she is a longtime student of maestro Karaikudi Mani in Chennai, South India. She literally reminded us to mention his name as a way to give respect. In short, Konnakol, the spoken component of solkattu, is a rhythmic language of South Indian music.
Her music can be described as world music and jazz. It was very ensemble driven, integrates jazz and South Indian music, but at the same time there is a subtlety of African music. Mostly wordless and contains complex -but enjoyable South Indian rhythms, her album Grace (2014) and The Eternal Pulse (2012) are as though they are back-to-back. Two words: artistic, mystical. If those are not enough, maybe the word magical can be added into her craft.
For this jazz fest in Malaysia, she brought her band, The Lisa Young Quartet which specializes in jazz/world music. Other than Lisa herself on vocals, the band comprises of Ben Robertson (contrabass), Steve Magnusson (guitar) and Daniel Farrugia (drums). Like priests, Lisa and her mates gather the sacred, traditional Indian music and the western, modern jazz in a beautiful marriage. They know how to bring it almost spiritually, that can create a meditation realm. The chemistry between the musicians were overwhelming. The combination of music playing and singing from Lisa Young is like offering a ticket to enter the gate of a new, diverse musical dimension. Mystical is the word. What an experience.
Here's the full review of the festival Jazzuality Report from KL International Jazz and Arts Festival 2014