Lisa Young is renowned as a passionate and engaging workshop leader, having developed a unique voice in Australian Vocal music and enjoyed years of experience Australia wide with both children and adults as Choir Director, Workshop Presenter, Artist in Residence and Composer of Commissions.
Lisa regularly witnesses the ability of the human voice: to touch the human spirit, open hearts and build community. Her music crosses the boundaries of a cappella, jazz, world, folk, and improvisation. Her teaching approach is all engaging, suited for all ages. She is passionate and inclusive, sharing her love of vocal music, combined with supportive techniques for the voice and vocal performance.— preview Lisa's Festival Workshops.
Known as a creative vocal stylist and improviser who incorporates Indian and African influences in her work. She has a Master Degree in Music Performance (Voice) which includes a thesis in Konnakol (South Indian vocal percussion), and serves as a vocal teacher at the  Victorian College Of Arts, Melbourne University.
Lisa's workshops are unique. Using chants, songs, vocal percussion, earthy rhythms, luscious harmonies, and simple percussion parts, she inspires singers to explore rhythm, harmony, and improvisation. She works with song form, wordless pieces, and movement encouraging a great love of rhythm and using the voice as a colourful instrument. The repertoire is predominantly original, however she also includes music from a variety of streams. Lisa has composed extensively for choirs and her works have been performed by choirs throughout Australia, Germany, Austria, Canada and the USA — preview excerpt of "The Collective Sound Bank" choir workshop.

Lisa Demonstrates Konnakol for DigitalPill.TV
Lisa has given workshops throughout Australia with highlights being for The Orff Society, ASME (The Australian Society for Music Education), Young Voices of Melbourne,  The Australian Voices, Bendigo Youth Choir, Melbourne Jazz Festival, and she was a 'Song Writing' Artist In Residence at Preshil School, Melbourne. She has directed and composed mass choir works for Festival Fremantle and The Big Sing in Melbourne and Ettalong Festival Big Sing.— preview excerpt of "The Internal Sound Bank" master-class.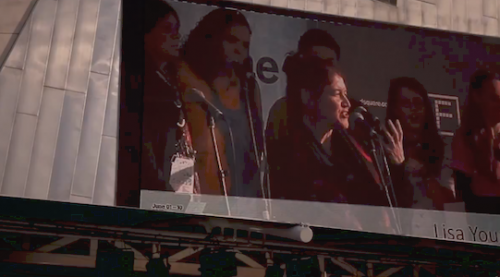 'In One Voice' Lisa vocal percussion was part of the Fed Square opening event for the Melbourne Jazz Festival in 2011, together with a few great artists. Check out the video called "A Day In The Life – Lisa Young" in the Video collection. Click the picture above for a photographic journal of Lisa's workshop at the Melbourne International Jazz Festival 2011.

The Art Of Konnakol Documentary
'The Art of Konnakol' is the first of three documentaries that give an insight into the music of the Lisa Young Quartet.  This documentary focuses on the art of Konnakol.

For a detailed specification of Lisa's workshops visit Lisa's EPK page,
download the EPK and  look inside the "Workshops" folder