The Lisa Young Quartet, essentially a Jazz/World music ensemble, is a collaboration with the intuitive musicality of Lisa Young (Vocals), Ben Robertson (Double Bass), Steve Magnusson (Guitar) and Dave Beck (Drums).
Their latest album The Eternal Pulse is a songcycle which explores a diverse musical expression, layering Indian elements, rhythmic textures and ensemble dialogue in an evocative journey of sound and song.
The sounds and rhythms of The Eternal Pulse wakened something deep inside me. Lisa's music spoke not to my ears but to my heart, leaving me tingling, and vibrant, then tears fell down my cheeks

— Grace Knight, Australia
An intelligent, loving and unforced marriage of two great traditions

— Doug Spencer, ABC Radio, Australia
Their previous album Grace, released in 2006, represents a diverse musical journey, combining a crossover of Indian and African influences with an improvisational approach. The wordless pieces provide a basis for ensemble dialogue, while the works in song form express her soulful interpretation of contemporary life.
In 1999 the quartet released the ARIA nominated album Speak (featuring Colin Hopkins on piano) with assistance from the Australia Council.
I found myself immediately enveloped in the warmth of Young and her ensemble. Young's voice – sometimes ethereal, sometimes earthy – acts as a physical extension of her lyrics, which describe the sense of joy that comes from living life to the fullest.

— Jessica Nicholas, The Age Wangaratta Jazz Festival Review, Australia
BEN ROBERTSON – Double Bass
Ben has extensive experience in a broad variety of musical settings. Along with studio recording credits on over 60 jazz and commercial CD releases, many television appearances and national and international tours, Ben also performs in diverse situations with artists such as James Morrison, visiting artists Lee Konitz and American broadway diva Barbara Cook. He has toured Europe with the Joe Chindamo trio and also with Dane Hans Ulrick.

Recently Ben has recorded CD's with the Fiona Burnett trio, Tim Wilson trio, Tim Stevens trio, Don Harpers 'Illawarra' project, Alison Wedding and guested with the West Australian Symphony Orchestra and James Morrison. Despite spending considerable time in the studio and in live performance around Australia, Ben manages to find time to fantasize about exploring the Kimberley region of Australia in an excitingly equipped 4WD vehicle.
…contributed his unique warmth and sensitivity.

— Sydney Morning Herald, April 2003, Australia
…Glorious sound and tasteful playing…

— Fin. Review, Feb 2003, Australia
STEPHEN MAGNUSSON – Guitar
Stephen Magnusson is one of the most accomplished, versatile and distinctive musicians in Australia. His incredible technique and astoundingly beautiful tone on his instrument have make him an indispensable part of many bands and film scores. HIs astute and thorough knowledge of music have also made him an indemand teacher and lecturer at Monash University, NMIT and VCA.
For most of the 90's Stephen lived in Switzerland performing with his bands SNAG and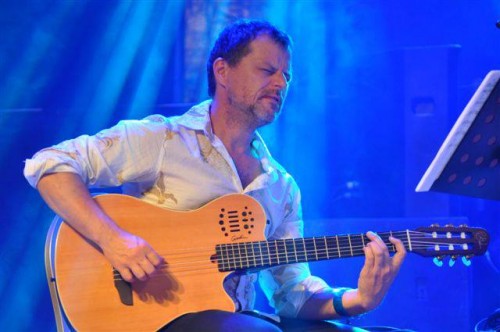 Facelifter at major festivals and clubs throughout Europe. During this time in Europe, Stephen was awarded the Swiss Diagonal Arts Grant and Pop Kredit award with the band SNAG and also received rave reviews for his performances. Stephen spent time studying with Mick Goodrick and Jerry Bergonzi at the New England Conservatory.
Stephen returned to Australia in 2000 to perform and record with his trio at the Wangaratta Jazz Festival where he was co-winner of the National Jazz Award. Since then he has been nominated twice for the Freedman Fellowship, produced Martin Breeze's album, Blackbird, released Boundaries, Healing Songs, assumptions2 (ARIA nominee) and departures by assumptions on Newmarket Records, and recorded 'For Elvin' with the Ted Vining Trio as well as releasing his new album MAG.
He has performed recently with Elixar, Paul Kelly, James Morrison and Vince Jones. He has also been involved in playing and co-producing albums for Alison Wedding, Lisa Young and Christine Sullivan, worked on movie soundtracks with Paul Grabowsky, produced soundtracks for short film and worked with Ruby Hunter, Archie Roach and the Australian Art Orchestra on Ruby's Story.
His latest CD 'Little Creatures' released on ABC label in May 07 is Magnusson's first solo guitar Project.
" A significant voice on the Australian Jazz scene" — The AGE, Australia

"Lithe and tempestous…..wonderfully fluid" — Gerry Coster

"This guy can really play" — Charlie Hunter

"One of the most important trio's in the country " — Paul Grabowsky

"These 14 little creatures are highly individual solo guitar performances….. Magnusson creates a world of personal reveries.." — The Australian, 2007
DAVE BECK – Drums
Epitomising a synthesis of traditional jazz drumming and modern music Dave Beck is equally comfortable in a wide variety of musical settings. With extensive experience in the studio and television, Dave has toured internationally with Jo Chindamo, Barbara Morrison, Dane Hans Ulrick,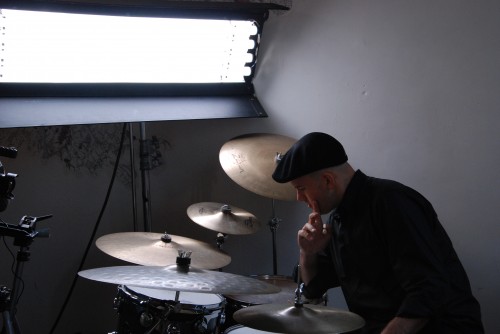 Don Burrows and has recently toured with Birtles, Shorrock and Goble (ex- LRB) and 'The Boy From Oz'. It is his ability to cross genres so comfortably that makes him in such demand for his rhythmic clarity and depth of musicianship .